I.IDRO DRAIN BIANCHI TEAM PRESENTED IN MILAN: WORLD-STAGE CHALLENGE TOWARDS 2016 OLYMPICS Bianchi MTB team's official presentation took stage at the Bianchi Cafè & Cycles in Milan (Italy). Back from two successful racing seasons, the historical Italian off-road team – today named i.idro DRAIN BIANCHI with Bianchi as main sponsor - introduced its 2015 eight-rider roster, unveiling schedules and goals for the 2015 and the roadmap to 2016 Olympic Games in Rio de Janeiro (Brazil). Italian Cycling Federation President, Renato Di Rocco, also attended Bianchi i.idro DRAIN MTB Team's official presentation.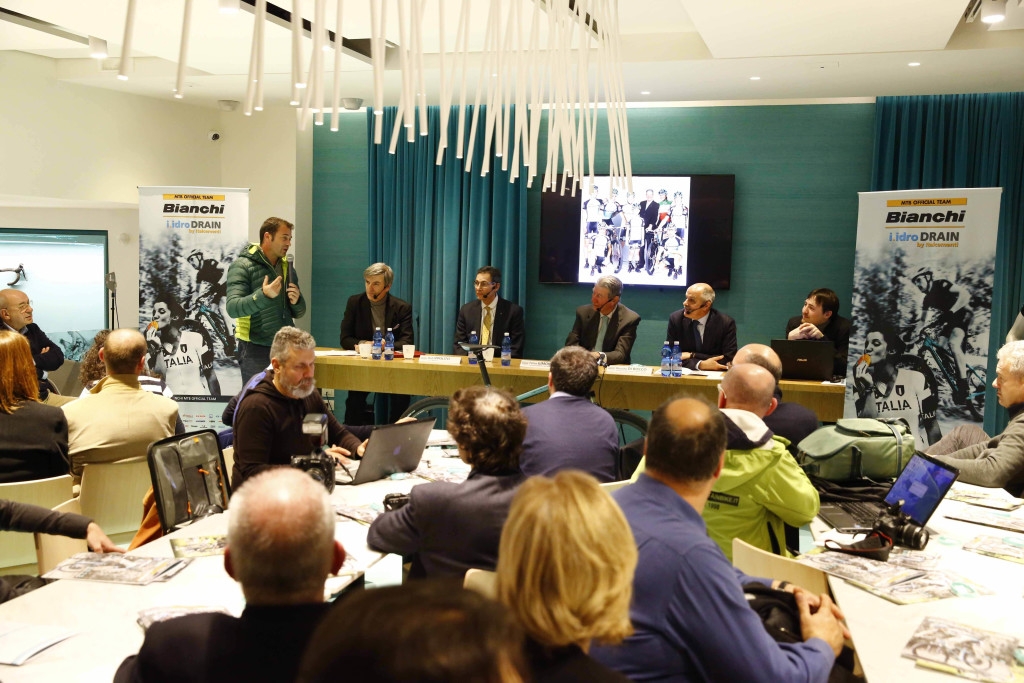 ELITE – UNDER 23 TEAM The Elite-U23 roster built for Bianchi MTB team's 24th season is made of six bikers, four élites and two U23. Gerhard Kerschbaumer and Alexander Gehbauer aim for prestigious results in XC events, in view of the Olympics. Three years ago, in London 2012, Gehbauer was ninth overall and best U23, Kerschbaumer thirteenth overall and runner-up among U23. Under 23 World champion two years ago, in 2014 Kerschbaumer debuted among the élites taking a win at Giro del Monte Canto, being runner-up at XC Italian Championships and Gimondibike and placing fifth in World Cup XCO's final round – Meribél. Slowed by physical problems, Gehbauer managed to go on the podium in Internazionali d'Italia's round 3 and XC Haiming. Leonardo Paez and Tony Longo make the duo for Marathon races. Bronze medallist at the XCM Worlds in Kirchberg (Austria) in 2013, last year Colombian Paez achieved 12 successes in Italy (including the third win in a row at Sellaronda Hero), France, Austria and Mexico. After racing in the Italian Champion's "tricolore" jersey, Longo took four wins, including Val di Sole Marathon and Gimondibike: a special present for President Felice Gimondi. The Elite-Under 23 team is managed by Massimo Ghirotto. Newcomer Jan Vastl, former bronze medallist at the Junior European championships and runner-up among U23 at 2013 National Czech U23 Champs, and Bianchi farm system's 18-year-old rising star Chiara Teocchi – CX, XCO and XCE Italian champion, gold and silver medallist at the Youth Olympics in Nanjing last year – round-out the roster. Bianchi i.idro DRAIN's Junior team is made up of two bikers, having Andrea Ferrero as Junior Manager: former several-time Italian champion Giorgio Rossi (Junior) and 11-year-old Marco Gozzi.
i.idro drain bianchi team
TEAM BIKES Bianchi equips the team with three top range carbon models: new Methanol 27 and 29.1 SL and Methanol 29.1 FS (full suspension), projected for extreme performance, featuring a rigid and light full carbon frame, thanks to Bianchi unique technologies and XC race proven geometry. The Junior Team will ride Methanol 27 SL bikes.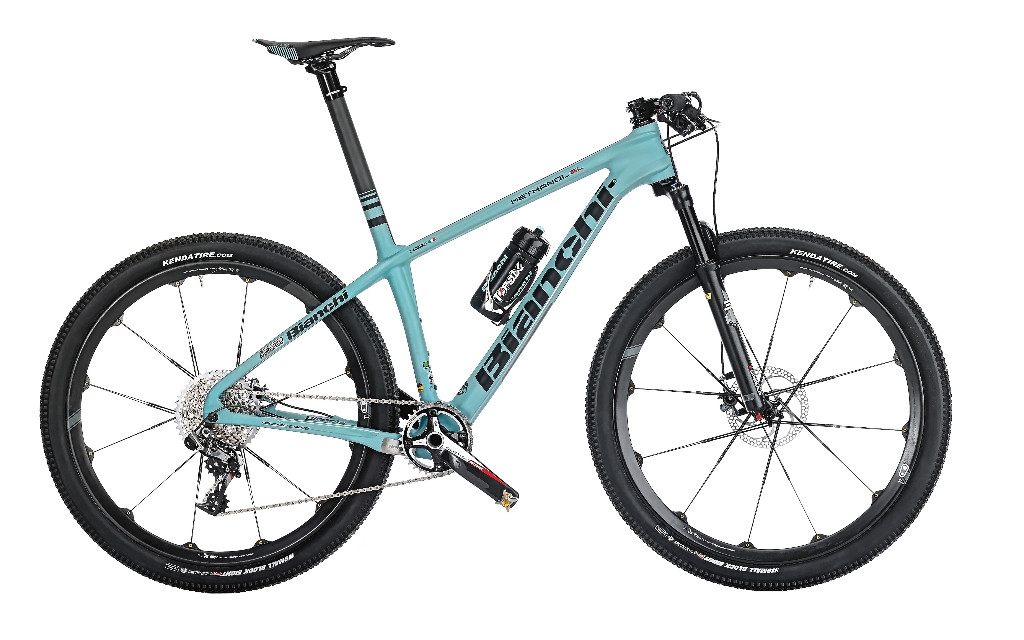 "In the year of our 130th anniversary, Bianchi secures its position as a performance bicycle company. Our commitment in the MTB racing started almost 25 years ago and we want to bring more viability and focus on development of our official racing team to further improve the Methanol high-end carbon frames and to strengthen our international roster", Bianchi CEO Bob Ippolito commented. Team's President Felice Gimondi explained Bianchi MTB team's goals for the upcoming season: "2015 is really important for the team and for our partners, having Bianchi as main sponsor, together with Italcementi as second sponsor. Our top riders will count on additional drives in this season coming before the Olympic year. Kerschbaumer is called to raise the bar, Gehbauer to get even after several physical problems, whilst Paez has Worlds' ambitions and Longo will try to re-affirm as a top rider in the Marathon races. We also rely on one of higher standing European prospects, newcomer Jan Vastl. Under 23 Chiara Teocchi and junior Giorgio Rossi come from our farm system we go on following with great care investing on the young talents".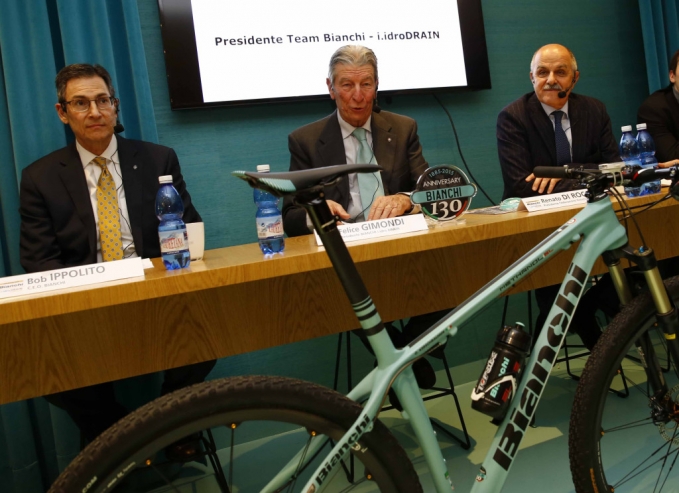 I.idro DRAIN Bianchi team will compete in the major MTB and cyclo-cross competitions worldwide and will continue to invest in young talents. An environmentally-friendly approach is also a distinguishing trait of the team, in accordance with the brand philosophy of second sponsor i.idro DRAIN by Italcementi.
"
This year, as the previous one, i.idro DRAIN is the brand we chose to support the Bianchi's MTB team. i.idro DRAIN is an eco-friendly product capable of draining water, the ideal solution for the construction of cycling lanes and green areas guaranteeing the respect of the natural water cycle. i.idro DRAIN has been already selected by several municipalities for its draining performance that perfectly matches with the cycling safety needs. A cycling lane was built in Northern Italy on a stretch of the Vento (Venice-Turin) and in Bologna's orbital road for bikes. Moreover, in Calusco d'Adda - close to an Italcementi's plant, an i.idro DRAIN cycling lane of almost 2 Km was inaugurated by Felice Gimondi
" commented
Lorenzo Colombo
, Italcementi's Italy Communication Manager.